Making the decision to start a business is not to be taken lightly. Like most nurses, I will always embrace the concept of lifelong learning. Taking that with me into the next phase of my professional career, I needed to know if I had what it took to be an entrepreneur. For the past year and a half, I have been devouring books on leadership, seeking advice from experts in the business sector, and spending time reflecting on my areas of strength.

During this journey, I feel a lot like Dorothy's companions as they traveled to Oz. Like the Scarecrow, I am seeking knowledge to make the best decisions for the company and to understand the best qualities of a CEO.
Courage is not a characteristic that I lack. But, as an Emergency Department Nurse and Nurse Educator, courage does not easily translate into the business sector. As my knowledge grows in my new role and I recognize the talent of our extraordinary interdisciplinary team, I am ready to take on the next challenge.

My heart and soul have gone into providing care for my patients and developing the simulation education program for nursing students at the University of Delaware. Like the Tin Man, I am certain that my heart will come with me as I explore a whole new world. The entrepreneurial journey is exciting and I want to share a revelation with you from my travels; the secret to entrepreneurial success lies within the skills that a good nurse already possesses.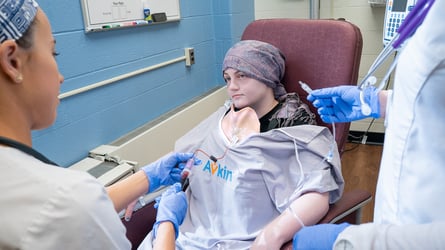 1.  Problem identification: We are able to quickly identify an area of concern and rally an interdisciplinary team to address it.
2. Innovative solutions: We do not always have what we need in our supply room. At times, we have to put our heads together to combine what we have into what we need.
3.  Working with few resources: During disasters and other emergency situations, our supplies can be limited. We need to triage our patients and the supplies we have to manage the crisis and generate the best outcomes for all involved.
4. Thrive in uncertainty: Our profession is potentially one of the most unpredictable. We never know what is going to be expected of us while we are providing care. This is one of the reasons we choose to be a nurse in the first place.
5. Successful negotiators: As novice nurses, most of us thought our patients would do just as we advised in order to have the best health. Unfortunately, this is not the case. We quickly learned the art of negotiation and motivational speaking is essential.
6.  Coordinators of care: A significant part of our role as a nurse is to "see the big picture" in regard to patient care. Respecting the expertise of each discipline and knowing how and when to utilize this skill for our patients is crucial.
I know many of you are like me and have had an epiphany in your career to improve the care we provide to humankind. Perhaps you also struggle with the Tin Man, Lion, or Scarecrow within. Believe it or not, you've always had the power to be an entrepreneur. Nursing has equipped us with the magic of ruby slippers!
– Amy Cowperthwait CEO, RN, MSN, ACNS-BC
(Visited 199 times, 1 visits today)